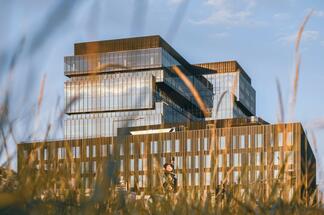 Total leasing activity in Warsaw for the first half of 2023 climbed to 325,700 sqm, down by 32 percent from the same time in 2022. This downturn was largely due to a high base effect as 2022 saw many large-scale transactions take place. However, the deal count for the six months of the year was down by only 3 percent year-on-year.
In the first half of 2023, the structure of demand in Warsaw was dominated by new leases which accounted for approximately 61 percent of all deals. Renegotiations and expansions made up the remaining 35 percent and 4 percent, respectively.
"In the six months to June 2023, leasing activity in Poland's regional city office markets remained relatively solid at around 334,000 sqm, down by only 2 percent from its very strong performance in the first half of last year. The tenants I talk to frequently complain about the actual utilization of office space by employees. Many companies have downsized their offices and some have decided not to take additional space despite rising headcounts. Analysis of macro data, therefore, seems all the more interesting as it shows that the gradual recovery in demand for office space in regional cities continues," comments Michał Galimski, Partner, Head of Regional Markets, Cushman & Wakefield.
At the end of the second quarter of 2023, the total office stock of Poland's nine largest markets amounted to nearly 12.8 million sqm.
"The first half of 2023 saw relatively few office completions – the top three markets for new office supply were Krakow, Wrocław and Tricity," comments Vitalii Arkhypenko, Office Market Expert, Cushman & Wakefield.
The largest projects completed in the first six months of the year included an extension of Cavatina's Ocean Office Park in Krakow (28,600 sqm), Skanska's Nowy Rynek E in Poznań (25,100 sqm) and Skanska's Centrum Południe 3 in Wrocław (20,900 sqm).
"Poland's office development pipeline has shrunk considerably over the last three years. Although construction activity has bounced back to a degree with new office starts in the capital and regional cities, this downturn continues and is most pronounced in Warsaw, where only approximately 221,000 sqm is underway. Office stock under construction in regional cities stands at approximately 450,000 sqm compared to the pre-pandemic 850,000 sqm," says Ewa Derlatka-Chilewicz, Head of Research at Cushman & Wakefield.
The slowdown in new development activity is due to high office construction and fit-out costs, uncertainty caused by the war in Ukraine and the overall economic downturn in Poland and globally. Cushman & Wakefield estimates that the Warsaw office market will expand by around 66,000 sqm this year, which will mark the start of a 'supply gap' that could last until 2025.
In 2023, new office supply in regional city office markets is expected to total 350,000 sqm, 15 percent below the five-year average, with regional cities likely to experience a 'supply gap' in 2024, about a year later than the Warsaw market.
Poland's overall vacancy continued its upward trend – at the end of June 2023, it stood at 14.2 percent, up by 0.4 pp over the quarter. Warsaw's vacancy ratio was 11.4 percent, down by 0.2 pp compared to where it was in the previous quarter. All regional cities but Wrocław and Lublin recorded increases in vacancies, with the average regional vacancy rate at 16.8 percent. Office availability in all the surveyed markets amounted to 1.81 million sqm, marking a 3 percent increase compared to early 2023.
Prime office rents averaged €22-26/sqm/month in the center of Warsaw, reaching a maximum of €28/sqm/month, while in non-central locations they were in the range of €13.50-16.50/sqm/month.
"Average prime office rents in central locations in regional cities stood at €12.50-16.50/sqm/month, with rental growth reported in the year to date for new office completions in particular," concludes Jan Szulborski, Office Market Expert, Cushman & Wakefield.
source:property-forum.eu