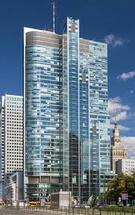 Rondo 1 is undoubtedly one of the most iconic office buildings in the Polish capital. It offers office spaces that can be tailored to suit individual tenants' preferences and requirements. It also boasts an impressive design and sets trends in sustainability, says Zuzanna Paciorkiewicz, PhD, MRICS, Head of Asset Services, Cushman & Wakefield.
Having taken over property management of Rondo 1, we will deliver a full spectrum of asset services for the building and provide administrative, operational, financial and technical oversight. It is critical that we liaise and maintain good relationships with tenants who are always extremely important to us, adds Grzegorz Dyląg, Head of Asset Services Business Space, Cushman & Wakefield.
Rondo 1 is a modern triple A office building. It was designed by globally renowned architects from Skidmore, Owings and Merrill in collaboration with Warsaw-based AZO. Located by ONZ Roundabout, the office complex consists of two buildings: a 40-floor tower (Building B) parallel to Jana Pawła II Avenue and a ten-floor building (Building A) along Świętokrzyska Street. It was completed in 2006. It offers 67,000 sq m of office space and has a total area of 103,000 sq m. It also provides 490 parking spaces and amenities such as a fitness club, a kindergarten, a tailor and cleaner's, and a car wash. Rondo 1 has obtained the LEED Platinum environmental certificate for in-use buildings which defines it as a green structure.
In January 2015, global real estate services firm Cushman & Wakefield took over property management of two well-known office buildings in Warsaw: Green Corner and Kopernik Office Buildings. It will continue to act as property manager for the two assets from this year onwards.
Thanks to the extension of our business relationship and the opportunity to coordinate our operations for the two office buildings in Warsaw, that is Green Corner and Kopernik Office Buildings, we will be able to implement brand new solutions to improve tenants' satisfaction and to add value, says Grzegorz Dyląg.
Green Corner is a nine-floor, energy-efficient office building with 28,000 sq m of leasable space in Warsaw's Wola district. It has received the LEED certificate with a Platinum rating, making it one of the greenest buildings in Poland. Green Corner features solutions helping reduce its energy use and minimize its environmental footprint, including a greywater recycling system and innovative BikeUP lifting platforms for cycling commuters.
The Kopernik Office Buildings complex consists of five buildings providing a total of more than 23,000 sq m and connected to one another by a six-level car park with 765 parking spaces. It is located in Warsaw's Włochy district. It enjoys an excellent location and quick access to both Frederic Chopin Airport (a ten-minute drive) and the city centre (an approximately seven-minute drive). The office complex features a remarkable façade of red Flemish bricks and red mortar joints that give the buildings a massive industrial look. In 2018, Kopernik Office Buildings received the BREEAM In-Use certificate with "Very Good" ratings in Asset Performance and Building Management".
Source: Cushman & Wakefield