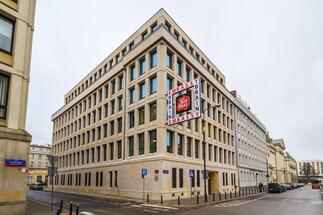 The cmT company was responsible for coordinating the work of design offices, experts and contractors. During the implementation of the project, the deliveries required extremely precise planning so as not to disturb the functioning of neighboring institutions and buildings.
Technical issues related to ensuring maximum comfort for future users were a separate challenge. Here, the old structure turned out to be the basic limitation. After many discussions with the Investor, we made a joint decision to replace the entire internal load-bearing structure of the building with ceilings with a new one. This change allowed us to increase the usable heights of the storeys, ensure maximum acoustic comfort and fit all modern installations and amenities. In the end, we achieved the effect of a very innovative office building without damaging its historic and historical form - says Marcin Szczesiuk from Archicon Szczesiuk & Wilczek, Architektoniczna Pracownia Projektowa.
In the case of BE Czacki, the unconventional design and history of the building from 1953, which since the 1980s housed the seat of the Kwadrat Theater, were combined.
We tried to skillfully move between theatrical inspirations and various forms of creative activity related to theater. That is why the spaces of the new Brain Embassy were filled with elements inspired by Broadway or cult theaters - says Paweł Garus, co-founder of the mode: lina studio.
Adgar Investments & Development Ltd is the owner of all buildings where the brand's coworking spaces are located.