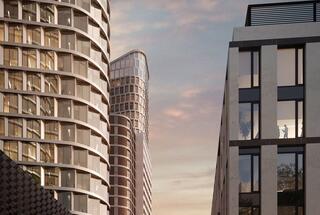 The sources of information on regional markets ((Kraków, Wrocław, Tricity, Katowice, Poznań, Łódź, Lublin, Szczecin) are consulting companies operating on the commercial real estate market: BNP Paribas Real Estate, CBRE, Colliers, Cushman & Wakefield, JLL, Knight Frank, Newmark Poland, Savills).
Invariably, the largest office markets in Poland (after Warsaw) were Kraków (approximately 1,637,000 sq m), Wrocław (approximately 1,283,000 sq m) and Tricity (approximately 992,000 sq m).
In the first quarter of 2022, 16 facilities with a total area of ​​243.5 thousand square meters were commissioned. sq m, most of which in Katowice (approximately 116.3 thousand sq m), Wrocław (36.2 thousand sq m) and the Tri-City (31.8 thousand sq m). Among them, the largest is .KTW II (39,900 sq m), developed by TDJ Estate in Katowice.
At the end of the first quarter of 2022, approximately 970,000 sq m was immediately available for rent in the eight main regional markets. sq m office space, which corresponds to a vacancy rate of 15.5 percent. (an increase by 1.4 pp q / q and an increase by 2.6 pp compared to the same period in 2021). The highest vacancy rate was recorded in Katowice - 19.8%, the lowest in Szczecin - 3%.
The total volume of lease transactions registered in the first quarter of 2022 amounted to 160.5 thousand. sq m, which is a value by 25 percent. lower than in the previous quarter, but by as much as 63 percent. greater than in the corresponding period of 2021. Most of the space was leased in Kraków (38,100 sq m) and Wrocław (38,400 sq m).
In the first quarter of 2022, new contracts had the highest share in the demand structure: 68.9%. (including pre-let contracts and space for the property owner's own needs). Renegotiations and extensions of existing contracts accounted for 21.2 percent. registered demand, and expansion for 4.6 percent.
The largest transactions concluded in the first quarter of 2022 include a new PWC contract in the .KTW II building, a new Keyword Studios contract in the Global Office Park complex in Katowice (9,300 sq m), a renewal contract for Ericsson in the Olimpia Software Pool building in Łódź (7.7 thousand sq m), and a pre-let agreement for OTFC in The Park I building in Krakow (7 thousand sq m).