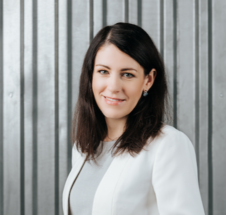 "The idea for Flexi Lease was inspired by the needs of companies that approached us not being able to find a convenient form of lease of work space on the market. Seeing how much the work environment is changing, more and more managers began to realize the role of workplace in functioning, creativity and well-being of their employees. At the same time, many companies do not want to bear the high costs associated with finishing the office space or buying furniture. Sometimes an additional or temporary office would perfectly suffice. We decided to meet these requirements by preparing a readymade product for employers who care about the welfare of their employees, but do not want to spend time or resources on interior finishing works" - explains Monika Szelenberger, the Head of Leasing & Asset Management at Adgar Poland.
The flexible lease offer from Adgar Poland is another innovative idea of the investor, completing the existing portfolio of products – co-working and traditional lease. Flexi Lease is a solution dedicated to not only medium-sized companies but also international corporations, who wish to conduct their business in an optimal way. This form of lease and flexible contract will enable the companies to transfer a part of their staff to the space of Flexi Lease, thereby increasing the level of safety of the entire company and creating an attractive alternative for employees tired of working from home. Providing such an alternative becomes all the more important that, according to the study conducted by StepStone and Business Insider Polska, 50% of respondents, that is the employees who work from home, feel more stressed, and 44% complain about solitude and no possibility to exchange their thoughts with other team members if they work remotely for too long. The problem with the proper arrangement of the workplace plays a significant part too. Some people who work from home notice problems with concentration and motivation and would like to, at least partially, return to work in the office. 1
"The clients choosing the Flexi Lease will enjoy compact offices consisting of open space, meeting rooms, private offices and a kitchenette. Additionally, the Flexi Lease has comfortable and very spacious common area. In such common areas, our clients will be happy to see a large kitchen and a very pleasant chillout zone, which has comfortable sofas and armchairs, and many others amenities. This solution allows the employees to stay focus on their work in a place reserved for their company and to relax and rest in common areas. Of course, while ensuring the highest sanitary standards" adds Monika Szelenberger.
What makes the Flexi Lease an innovative solution is that a potential client can choose a service package. In addition to a basic version (with the option to use own furniture), Adgar also offers a premium version with furniture of Scandinavian manufacturer Kinnarps and access to co-working space 'Brain Embassy'. In this package, the clients also receive access to the Brain Embassy program, which includes very exciting content, such as training courses, various events, English lessons, yoga classes and many more.
Many facilities and amenities situated in the buildings of Adgar Poland are their undisputable advantage. Within the individual complexes, the clients can find gyms, swimming pools, cafes, and even eco-carwashes, with the building Adgar Park West having its own training and event centre 'Be Inspired'. The working parents will be pleased to hear that nurseries are also available for their convenience. Furthermore, the space users are offered a free high-class bike rental service. And from the beginning of August, the amphitheatre is open at the Adgar BIT building, offering a wide range of cultural events.
The solutions offered by the property owners must be flexible and ensure the safety of their users. The Flexi Lease is a great solution for corporations as well as for smaller companies looking for safe and flexible forms of lease of workspace.
1 https://businessinsider.com.pl/twoje-pieniadze/praca/home-office-zalety-i-wady-pracy-z-domu/jmlrdh2